About Me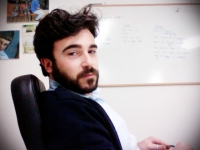 Journalist and political analyst on EU, MENA and Mediterranean Affairs. An archaeology lover born on the Mediterranean shore to a Sicilian-Australian family.
In the period 2009-2015 I lived in Jerusalem and worked as correspondent journalist covering the Arab Spring and its effects in the MENA region.
Since 2017 I am the Press and Communications Manager of the Commission of the Bishops' Conferences of the European Union (COMECE). Now living in Brussels.
Find me on Twitter, Linkedin and Facebook.
Academic studies:
BA in History and Geography, UNED Madrid (ongoing)
MA in Political Science Security Studies, Université Libre de Bruxelles
MA in Islamic & Middle Eastern Studies, Hebrew University of Jerusalem
BA in Political Science and Journalism, University of Messina
Other studies:
Euro-Mediterranean Academy for Journalists, EMAJ Amsterdam
Course for Journalists in Conflict Areas, University of Rome Tor Vergata
Emergency and survival training course organized by the Italian Ministry of Defense, Rome
International Humanitarian Law by the International Committee of the Red Cross
Recent working activity:
2017-Now - Head of communications,COMECE
2010-2015 - Correspondent journalist and political analyst on MENA affairs
2009-2010 - Press Officer, ARCI
2006-2010 - CEO, LaSpecula International Magazine
2008 - Press and Cultural Officer, USA Embassy in Rome (internship)
2008 - Press Officer, UK Consulate in Naples (internship)
Awards:
2013, Jerusalem - "Golda Meir Fellow" at the Hebrew University of Jerusalem
2012, Jerusalem - "Rothberg Family Scholarship" at the Hebrew University of Jerusalem
2011, Jerusalem - "Rothberg Family Scholarship" at the Hebrew University of Jerusalem
2009, Rome - "Progetto Bonelli Press Office Media Award"
2009, Strasbourg - "Council of Europe Media Award" for a reportage on radical Islam in Europe
Languages:
English
Spanish
Italian
French
Hebrew
M&S Arabic